Are you new to PTE exam? If you desire to go abroad for studying or immigrate to a major English-speaking country like Australia, USA, UK, Ireland, Singapore, Canada or New Zealand you will be required to take the PTE Academic exam to prove your English language competency. You want to know what is PTE exam and is it the same as IELTS? Then you are at the right place. This article will answer all your questions and give you a great starting point to do well in this exam.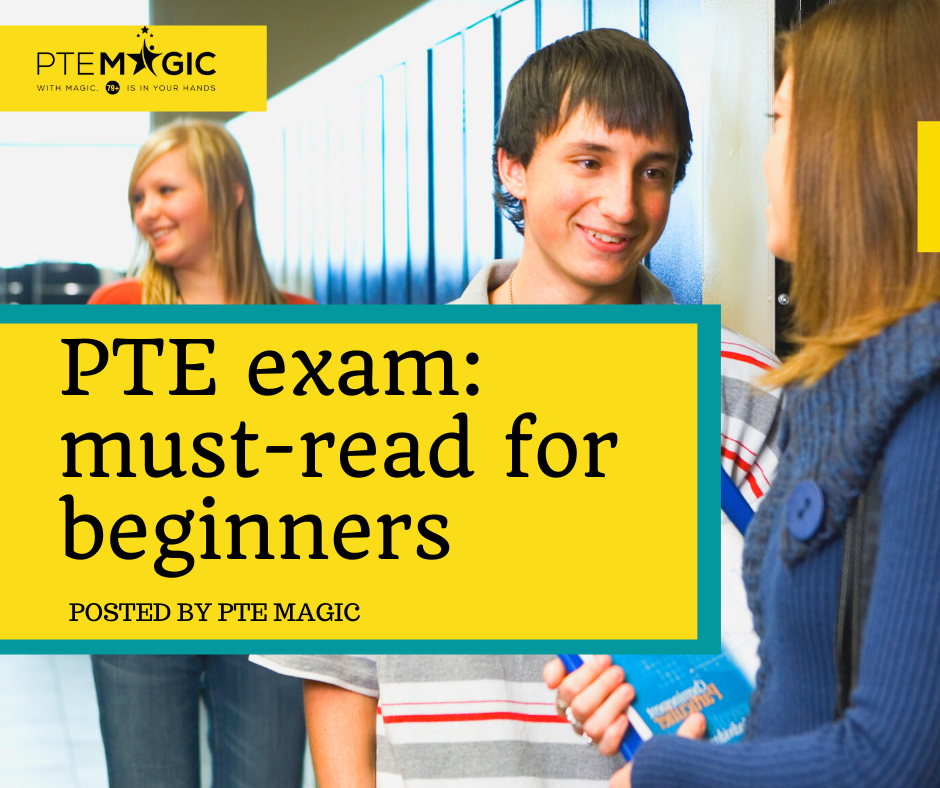 What is PTE?
The PTE Academic exam is the world's leading computer-based test of English for study abroad and immigration, which assesses Listening, Reading, Speaking and Writing in a single 3 hour test session. PTE Academic is accepted by thousands of universities worldwide, including prestigious institutions such as Harvard Business School, INSEAD and Yale. PTE Academic is also accepted for visa purposes by the Australian and New Zealand governments.
When you apply for a visa, the government will require that you demonstrate a clear knowledge of the English language. PTE Academic test is one of trusted English certificate by numbers of universities and governments.
3 types of PTE exam:
PTE Academic
PTE General
PTE Young Learners (PTE for kids)
For people who plan to study abroad and settle in English-speaking countries, they should take the PTE Academic exam. PTE Academic scores are now recognized in many countries around the world such as the US, Canada, Australia, Singapore.. Instead of taking the IELTS or TOEFL test, you can choose to take the PTE A test to review your application for study abroad.
Who can take this test?
People who plan to move to Australia, New Zealand or UK or study abroad in these countries.
Age: Students over the age of 16 years can take the PTE Academic exam. The official PTE website has not mentioned any specific upper-age limit. Candidates in the 16-18 years age group must fill and submit a parental consent form in advance. You may download the parental consent form from the official PTE Exam website.
If you are over 18, you can register the exam by yourself.
Converting PTE Score To IELTS Score

Note: A band score of 79+ is the perfect score for Permanent Residency Application in Australia, New Zealand, UK etc.
Exam Structure Of PTE Academic
The PTE Academic, covers four main categories , including:
Persional Introduction: This part is not scored, unlimited time and it does not affect your final test results.
Speaking and Writing: you will be tested on your speaking and writing skills (77-90 minutes)
Pattern of Segment
Time Duration
Personal Introduction
Preparation Duration: 25 seconds
Answer Duration: 35 seconds
Read Aloud
Prompt Length: 60 words
Preparation Duration: 35 seconds
Repeat Sentence
Prompt Length: 3-9 seconds
Answer Time: 15 seconds
Describe an Image

Preparation Time: 25 seconds
Answer Time: 40 seconds
Re-Tell Lecture
Prompt Length: up to 90 seconds
Preparation Time: 10 seconds
Answer Time: 40 seconds
Answer Short Question
Prompt Length: 3-9 seconds
Answer Time: 10 seconds
Summarize Written Text
Prompt Length: 300 words
Answer Time: 10 minutes
Answer Length: 75 words Maximum
Essay

Prompt Length: 2-3 sentences
Answer Time: 20 minutes
Answer Length: 200-300 words
The writing section will require you to write responses in academic English using correct grammar and spelling.
Reading: you will be tested on your reading skills. (32-41 minutes)
This part includes: Reading and Writing Fill in the blank; Multiple Choice, multiple answer; Re-order the paragraphs, Fill in the blank (reading only)
| | |
| --- | --- |
| Pattern of Segment | Time Duration varies on the length of the Text Prompt |
| Reading & Writing Fill in the Blanks | Prompt Length: 300 words |
| Multiple Choice, Multiple Correct Answers | Prompt Length: 300 words |
| Re-order Paragraphs | Prompt Length: 150 words |
| Fill in the Blanks | Prompt Length: 80 words |
| Multiple Choice, Single Correct Answer | Prompt Length: 300 words |
Listening part: You will hear each audio or video clip only once so listen carefully. You are allowed to take notes. And you should take note the topic words and important words. (45-57 minutes)
Pattern of Segment
Time Duration
Summarize Spoken Test
Prompt Length: 60-90 seconds
Word Limit: 50-70 words
Answer Time: 10 minutes
Multiple Choice, Multiple Answer
Prompt Length: 40-90 seconds
Fill in the Blanks
Prompt Length: 30-60 seconds
Highlight the Correct Summary
Prompt Length: 30-90 seconds
Multiple Choice, Single Answer
Prompt Length: 30-60 seconds
Select the Missing Word
Prompt Length: 20-70 seconds
Highlight the Incorrect Words
Prompt Length: 15-50 seconds
Write from Dictation
Prompt Length: 3-5 seconds
Score Range: 10-90 points in each section.
Expiration date of PTE Academic
The PTE Academic scores are valid for up to two years from the date of the exam.
But PTE Academic Score Report is valid for Immigration Purposes in Australia for 3 years, even though on your actual PTE score report, you can see it only shows 2 years.
Once the two years after expire, the PTE scores will be automatically removed from the site, and it is not visible. It is also valid until it is not banned by a visa.
When will you get your PTE results?
PTE Academic results are typically available within 5 business days and candidates can schedule tests up to 24 hours in advance.
Typically, students are able to schedule, take and send their PTE Academic scores to institutions, all within 1 week.
PTE Academic Registration and Fee
Steps to Register for PTE Academy :
3-step PTE registration
Create your Pearson account and login at https://mypte.pearsonpte.com/
Locate your nearest test centre and book your seat
Pay the registration fee : the fee will appear on your screen after selecting suitable test centre
PTE Academic's fee will be cheaper than that of IELTS and the sooner you book the test, the cheaper the fee is.
Note: If you want to change the exam schedule or cancel the exam schedule, you can do it online. No need to come to the center.
Cancellation 14 days or more in advance: 100% refund of exam fee
Cancel the exam within 7-14 days before the exam: 50% refund of the exam fee
Cancellation less than 7 days before the exam: No refund of exam fee
Prepare for the test day
Candidates should pay attention to these following informations:
Before taking the PTE test
● You must arrive at least 30 minutes before your test and sign in at the test center reception.
Note: If you arrive late 15 minutes since the start time of the test you will not be allowed to take the test and you will lose your test fee.
● You must read and agree to the Test Taker Agreement, which will be provided to you when you arrive at the test center.
● The Test Administrator will check your identification and take your palm vein scan and signature.
● The Test Administrator will explain the test center rules and regulations.
● Personal belongings have to be stored in the secure storage facilities. You cannot access the storage facilities
until your test has been completed. So you should not bring valuable items to your PTE exam.
*** On the day of the test, Pearson will take:
● Your photograph
● A scan of your palm vein pattern
● A spoken personal introduction from you
They may take a copy of the ID document you present at the test center.
The following are not allowed in the test room:
Phone
Electronic devices
Digital watches
Jewellery thicker than 1/2 cm (1/4 inch)
Wallets / Purses
Hats
Coats
Books / Notes
Eating/ Drinking/ Chewing gum
Smoking
Chatting/ Disturbing other candidates
Other items that are not listed above can be brought in test room.
During your test
Speaking: You will be asked to answer several questions. You need to think carefully before giving an answer, because you will not have an opportunity to re-record your responses. During the answer process, it is necessary to keep calm, answer fluently, without hesitation and that will make your score better.
Listening: You will hear international English speakers with a variety of accents. You will not be able to replay the video/audio clips during the test. You need to be completely focus on this part to do it well.
Writing: You may write your response in any valid form of English (British or American), but it must be consistent throughout the test. For these questions you have an allotted amount of time to respond and you can come to the next question if you are not sure for the question.
Also, If you have questions or concerns, raise your hand and the Test Administrator will assist you as long as other test takers are not disturbed. So if you have any problems or questions which are not related to test content, make sure to raise hand and ask the Administator to help you.
After your Test
Pearson aims to provide results within five business days of your test date.
After your test, if your score is ready you will receive an email informing you that.
Your Score Report can be downloaded in a PDF format and will only be accepted by an institution if your report is verified through our electronic platform.
Institutions will verify your PTE Academic Score Reports by using the Score Report Code (contained on your Score Report) you provide on our electronic verification platform.
To view your Score Report, you can follow these steps:
Sign in to your account at pearsonpte.com
Select 'View Score'
Your Score Report will be displayed on screen.
To save a copy of the report, click the 'Download PDF' button.
Is PTE Academic easier to score than IELTS?
The answer is YES based on our student's experience having had both of two exams. If you feel that the IELTS or TOEFL test is too difficult, you can switch to the PTE Academic test. Because PTE testing form is very objective, it's completely computer-marking, more importantly, the test results are updated quickly and you can completely register for another test if you are not satisfied with the previous results.
Also, note that since PTE is a computer-based test, we have lots of tips and practice for high score with PTE. You can refer to more articles on PTE Online to learn more, especially PTE's score analysis series articles.
So that is all you need to know if you are about to take PTE Academic exam. You must read and remember the informations about the test so you could make the first move go well. And to have your desire score, you have to prepare well and practice a lot.
If you are taking your first attempt or you are struggling to improve your PTE Academic scores, please following this page https://ptemagic.com.au/ which contains tips to help you make your dream come true.
Practice with our real PTE questions bank : http://www.ptemagicpractice.com