I still remember being so surprised when I received my score report. I was aiming for 79+ at that time, so I did not expect I would get 90 in all 4 modules.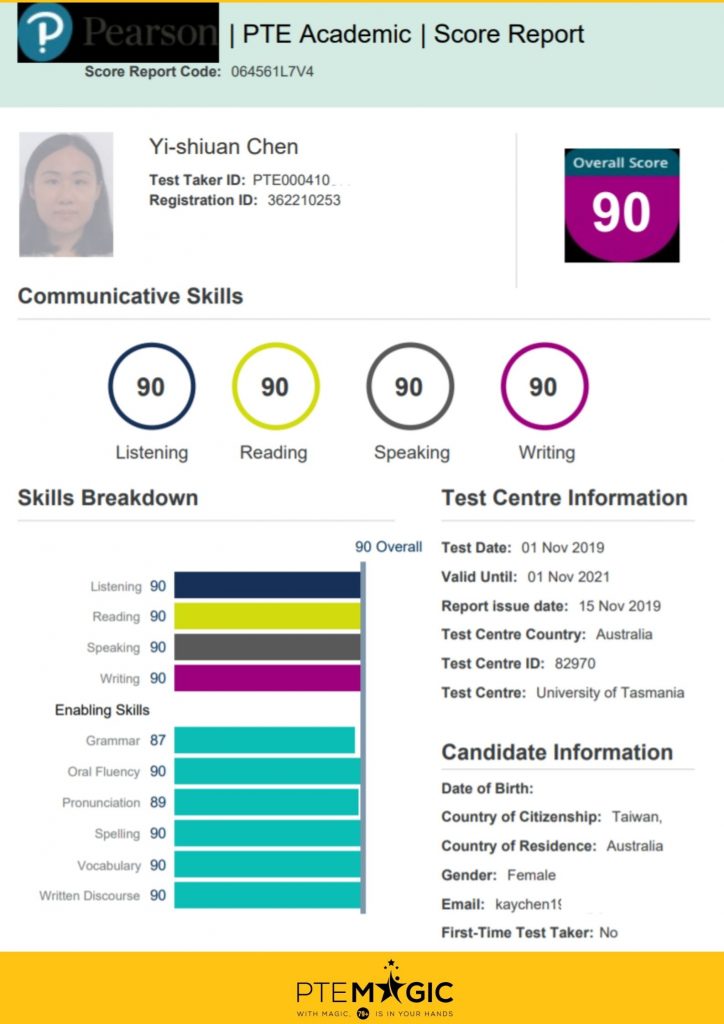 From IELTS to PTE
Before taking the PTE test, I already attempted IELTS 8 times, and my desired score was 8 each. It was never an easy task, especially writing. No matter how hard I tried, the best I could get for writing was 7.5 even though my speaking was 9. I did not know what to do and was very lost.
PTE Journey
The first time I took PTE was back in the beginning of 2017. I did not know any tips and strategies back then, so I did terribly as expected. However, living and working in Australia had always been something that I wanted to do, so I decided to give it another try and to take the PTE test.
In the beginning, it was very painful to be honest as it was very different from IELTS. There are 20 tasks in the PTE test, and it is machine scored, which means I need to understand how the marking works. I gave myself 5 weeks to prepare for the test, and just like many other test takers, I also told myself that I was not allowed to fail the test and I needed to pass in one go.
During those 5 weeks, pretty much all I did was to practice PTE, and I put a lot of pressure on myself. I could not help but think that I already failed the test in the past, so I might fail it again. But as the test was approaching, I tried not to overthink and just kept practicing as scheduled.
90 on the Score Report
One day before the test, I told myself I was the best and I could do it. I even tried to think of the real test as a mock test.
It took 2 weeks for me to receive the result as there was a huge difference between my first and second attempt, but the wait was totally worth it!
Now, I'd like to share some tips with you.
Study Tips – Speaking
Microphone Position: Checking the microphone position before the speaking section starts is important. We need to make sure our voice is loud and clear. The first time I only got 36 in speaking was because my voice was too soft and not clear.
Read Aloud: Start with repeated questions first. Highlight difficult words and practice them a few times. Don't add, miss and replace words as this task is important to reading as well. Also, don't correct yourself when making a mistake, just keep talking.
Repeat Sentence: This task is a daily practice as we need to train our brain's reaction. Try to listen for meaningful phrases because the more phrases you can understand, the better you can repeat after the speaker. Normally I don't take notes for Repeat Sentence.
Describe Image: We need to be familiar with the template and keep talking no matter what. Maintain fluency and speak without unnecessary pauses.
Retell Lecture: I used to think it was difficult, but it's actually not. We can use the template to help us maintain fluency. Try to get as many keywords as you can and pronounce them clearly to score the content mark.
Answer Short Questions: Start with repeated questions then go to the question bank as it would be a shame if we understand what the question is asking but just don't know the answer to it. When you practice, try to listen to the question instead of reading the question.
Overall, fluency is very important throughout the whole speaking section. Also, we need to speak loudly (but definitely not screaming), clearly and confidently in the speaking section.
Study Tips – Writing
Summarise written text: This task is about putting keywords in a grammatically correct way. We also need to make sure there are no spelling errors. Form is basic but important, which means we need to follow the rules and write in 1 sentence only with max of 75 words.
Essay: Using the template makes essay writing much more relaxing. Some things we need to keep in mind are grammar, spelling, answering the questions prompt (don't write off the topic), word count and proofreading.
Study Tips – Reading
Fill in the blanks – Reading and Writing & Fill in the blanks – Reading: These two tasks are testing our knowledge of grammar, vocabulary and collocation, and there is no shortcut. If we have practiced the questions before and get the same ones in the test, it will be easier for us. It is important to study the questions that you have done wrong and try to understand why they are the answers.
Reorder Paragraphs: Start with repeated questions first and then go to the question bank. Try to look for transition words and hints in sentences to reorder the paragraphs correctly.
Study Tips – Listening
Summarise Spoken Text: Practice every repeated question and go through the transcript to see what keywords to include. Make sure grammar, form and spelling are 100% correct, so at least we get 6 points already.
Write from Dictation: This task is very important and we need to be familiar with all the repeated questions. Normally when I take notes, I write down half of the words. Write from Dictation is definitely a daily practice as well. In the real test, remember to have around 3-4 mins in total to do this task and don't miss any sentence.
What is PTE?
Before my real test, Moni's videos on YouTube helped me a lot. In one of the videos, she said, "P is patience; T is trying; E is effort."
It's normal to feel anxious and nervous before the test but try not to become attached to the end result. Instead, just do it for the sake of doing it.
If you have the tips, are on the right track and work hard enough, you will eventually get your desired result. Good luck!
PTE Platform: www.ptemagicpractice.com
Kay Chen