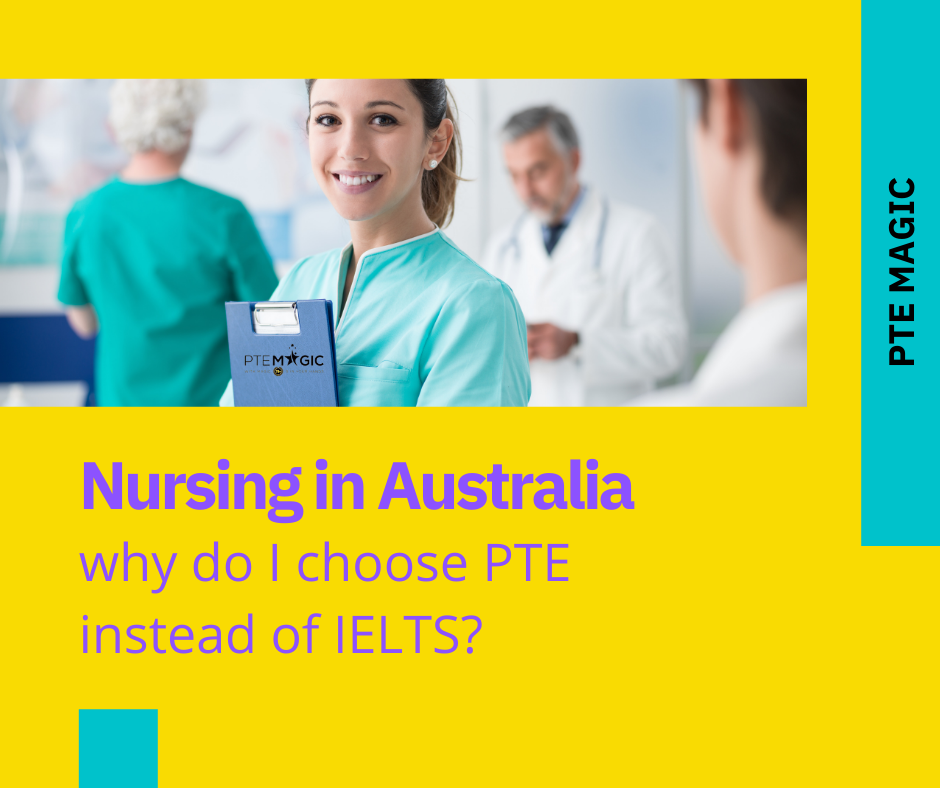 PTE Academic is an increasingly popular English proficiency test of choice for nurses and other healthcare professionals looking to open up possibilities for career advancement and exciting migration opportunities within their chosen vocation.
PTE Academic is now recognized by:
Australian Health Practitioners Regulation Authority (AHPRA)Encompassing, The National Boards of: Chinese Medicine, Chiropractic, Dental, Medical, Medical Radiation Practice, Nursing and Midwifery, Occupational Therapy, Optometry, Osteopathy, Paramedicine, Pharmacy, Physiotherapy, Podiatry, Psychology
A growing number of State Boards of Nursing in the USA including Arizona, Arkansas, Florida, Iowa, Massachusetts, Minnesota, Nevada, New Hampshire, Ohio, Pennsylvania, South Carolina, and Texas.
Optometrists and Dispensing Opticians Board of New Zealand
But English requirements for admission to Nursing in Australia are also quite high: students need to achieve IELTS 7.0 (equivalent to PTE 65) and no skill below 7.0. This is a compulsory inquiry requirement. and there will not be any determinant reduction. So to meet this English entry requirement, is IELTS 7.0 or PTE 65 the right choice for you?
Why is studying Nursing in Australia becoming popular?
Nursing is a profession within the heath care sector focused on the care and daily support for patients. Nurses now also provides community heath care services. As a result, nursing is now no longer a assistance standing next to the doctors only, it become a separate profession, stand on a par with other professions.
With an advanced education system and high-value diploma, there is no doubt that Nursing is one of the majors with good job opportunities for graduates, for many people all over the world.
More importantly, Nursing profession is always at the top, prioritized, in the Australian government's list of settlements. It only takes 2 years of nursing experience to be able to apply for PR (permanent residency) in Australia.
In addition, with the aging of the population and the shortage of human resources, it is expected that Australia will need at least 100,000 workers in this industry within the next 5 years.
Entry requirements for nursing students in Australia
This industry is directly related to human health and life. Therefore, Australia has very high and strict requirements for international students to study and work in Nursing in Australia.
Therefore, students' level and ability to communicate is essential to ensure that they understand the patient's requirements and wishes. Accordingly, the entry points are specified as follows:
GPA: >=7.5
PTE: >=65
IELTS: >=7.0 overall, no skill below 7.0
So should you choose IELTS 7.0 or PTE 65 to study Nursing in Australia?
IELTS is a "standardized" English test with a strong position in the field of academics and settlements in many countries around the world. The popularity of this certificate cannot be measured.
However, the 7.0 IELTS milestone with all skills required above 7.0 is not a target that IELTS candidates can easily achieve. Many people have to spend a lot of time taking the exam again and again just because they are stuck in one skill, spending a lot of time, money, and effort. And for some people, it really hinders them from going according to their plans.
But why should we let our whole future (journey) ahead be delayed because of an English test?
PTE becomes the first choice of nursing for students in Australia.
PTE Academic exam right now is becoming the perfect test in place of the traditional IETLS at more than 130 countries which include: England, Australia, New Zealand, and some European countries.
Particularly for the Australian market, more than 87% of international students and foreigner have chosen the PTE test for their purposes of studying, working, and residency in the land of Kangaroo.
In the PTE test, the biggest advantage compare to other tests is:
It's a computer-based, scored by AI system with objectivity but extremely high accuracy. No interviewee for Speaking part, just you and the computer.
Four skills can add cross points for each other, accurately assess the candidate's skills comprehensively. There is absolutely no situation of getting a score difference just because of one or two skills' lacking like other tests.
Therefore, to those who plan to study nursing in Australia the PTE exam should be considered as an amazing tool to bring them closer to their dream. At the same time, the learning path is "personalized" according to the needs and context of each subject and has a clear orientation. Practicing for an English certificate like this will save you a lot of time and money. You can focus on your more important projects
And also at PTE Magic, many students have smoothly pursued their nursing profession with PTE 65+ in just one exam.
To summarize, it can be seen that PTE 65 is absolutely easier to score than IELTS requirements for those who want to study Nursing in Australia.
Again, always remember to never let your journey slow down because of an English test. Choose your right way to your dream Nursing school.
Good luck on your journey and may you reach your destination soon.
Practice with our PTE questions: http://www.ptemagicpractice.com
Join our classes at: https://ptemagic.com.au/online-pte-training-courses/