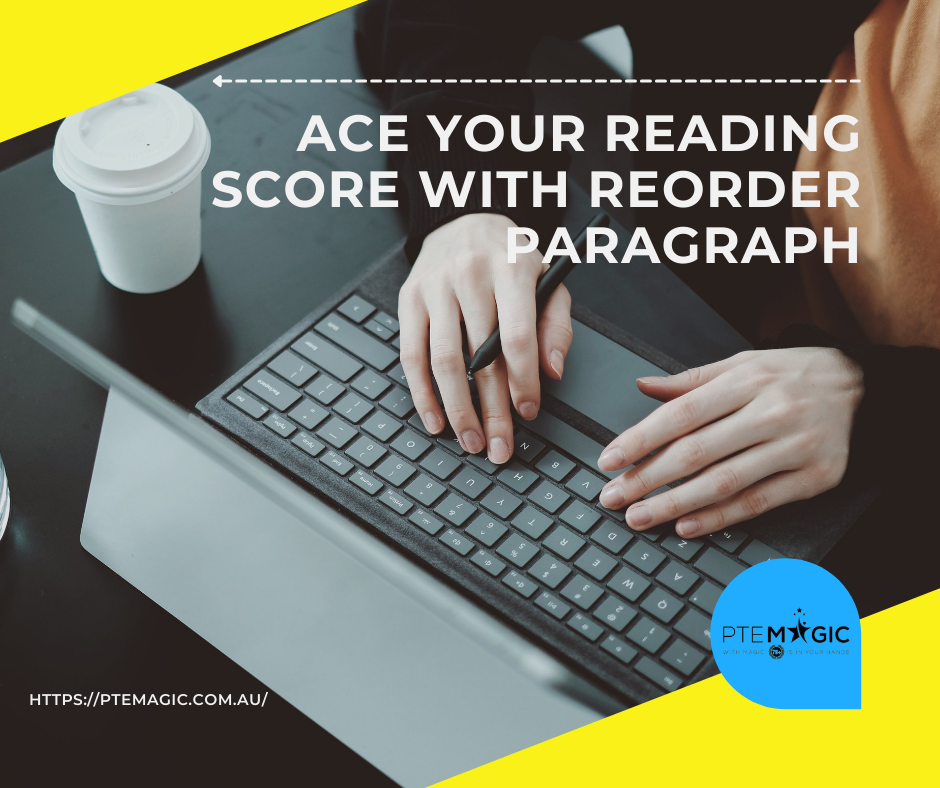 Re-order Paragraph is a question type in the Reading Module of the PTE Academic exam. The skill assessed in this task is PTE Reading. In this task, you need to reorder the original order of paragraphs of text.
Your performance in the Re-order paragraphs is judged on the ability to comprehend how an academic text is organized. If the placement of all the text boxes is correct, then you will get the maximum score for the question. However, if the order of one/more text boxes is wrong, then partial credit scoring applies.
And Reorder Paragraph has been the toughest part of PTE Reading. Then how can you overcome it? This strategy will help you ace it with max scores.
Strategy 1
Look for the topic sentence, this will enable you to identify the beginning of the passage. There is only one topic sentence and it never linked to any previous idea. By reading the text in all the boxes, you can understand the main idea of each one and gain an idea of the subject of the original text.
Strategy 2
Analyze how sentences are linking to one another and look out for the flow of ideas. Linking words can then start to help you. Skim-reading for other elements like 'pronouns', adverbs like 'additionally, besides', or words like 'but', 'forever' etc. to understand the logical order between the sentences.
Strategy 3
Look for any time-related phrases that indicate a certain order in paragraphing. To do this, you have to look at clues that give an idea about the present, past, or future.
Strategy 4
Pay attention to any "clue" words.
Strategy 5
Allow no more than 2 minutes for any reorder the paragraph questions. You have to do the remaining tasks with proper time so don't spend too much time more than 2 minutes on one Reorder paragraph question.
And the most important thing is practicing a lot. Apply these strategies and get a lot of practice, you will soon master your Re-order Paragraphs task. You can practice on our platform with the predicted and repeated question banks here: https://ptemagicpractice.com/#pablo.
Practice with our PTE questions: http://www.ptemagicpractice.com
Join our classes at: https://ptemagic.com.au/online-pte-training-courses/