Katrina, one of our MAGIC students, was able to achieve PTE overall 71 with Listening 70, Reading 74, Speaking 69 and Writing 74 as a first-time test taker after learning the tips and strategies from PTE MAGIC.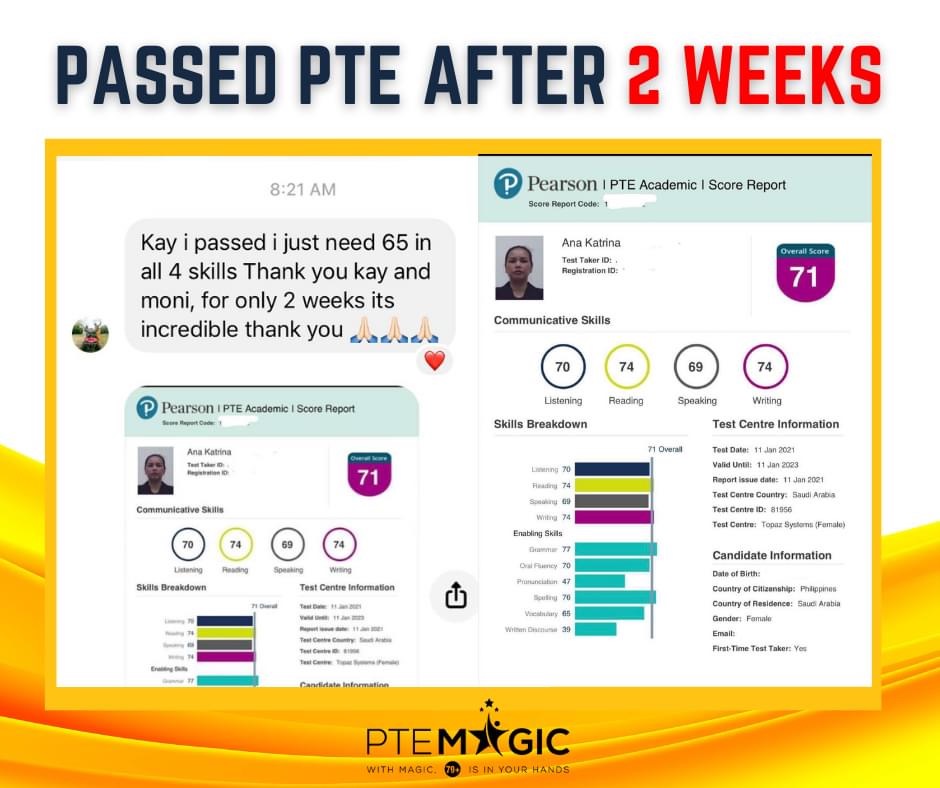 In this article, she will share with us some of her study tips in order to help more PTE aspirants.
PREPARATION TIPS
2 WEEKS BEFORE PTE EXAM
I enrolled in PTE MAGIC CRASH COURSE on December 28, 2020, 14 days before my examination.
1. PTE self-study guideline. I read the guidelines by heart.
2. Study plan which you can follow if you want. I followed week 1 to week 2, and it helped me to improve all enabling skills.
3.Every day I would make sure that I had 2 to 3 hours of practice on the platform as well. I FINISHED ALL THE REPEATED QUESTIONS.
4.I'd make sure that I did not skip the live classes (that is IMPERATIVE) because trainer Kay would teach you the ways to approach the actual test, and she would also provide relevant tips and tricks.
5. TIME is crucial to practice. FOCUS and PERSEVERANCE are important, too, if you really want to pass the test.
6. In my break time at work, I always watched Moni's PTE Magic YouTube videos.
Congrats again Katrina! Your persistence and hard work have helped you achieve PTE success.
_______________________________________________________________________
Join our classes: GET 20% discount
More questions on PTE MAGIC Platform: www.ptemagicpractice.com