Denise, one of our MAGIC students, was able to get a perfect 90 after learning the tips and strategies from PTE MAGIC.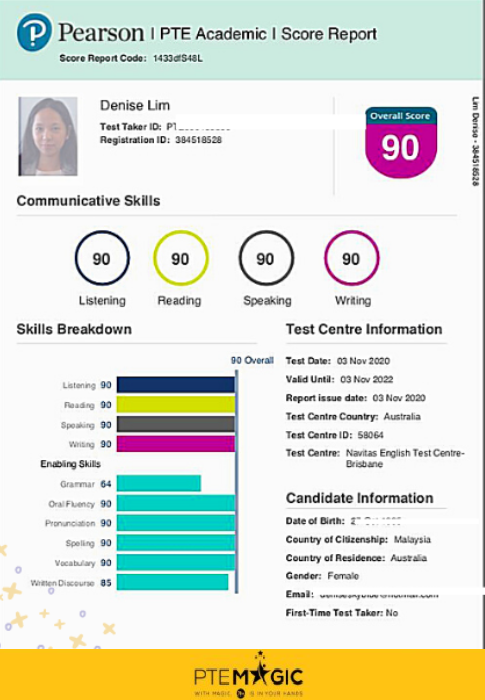 In this article, she will share with us some of her study tips in order to help more PTE aspirants.
Understand in-depth the requirements of each component (i.e. how each set of questions requires and how to answer, given PTE has too many components)
Days or weeks (depending if the person is a first-time test taker or multiple) – complete as many questions as you can on the PTE Magic Platform. It has a question bank that grades each question with the AI for speaking role. With the access to the practice platform, I kept attempting question after question for the sections I did not do very well in (Speaking and Reading). As the point for me doing non-stop question was to get into a habit where answering these questions becomes second nature and can think quickly on the spot.
Given the bank question is updated frequently to reflect latest test questions, some question did pop up in the exam, which was a great help.
Writing section: I made sure to write at least one essay per day for a few days prior to the exam to get into the habit of writing essays. Similar for Retell Lecture and Summarise Written Text portion.
Listening section: This one was the easiest for me, so I just attempted one of each question day before the exam (this was my 3rd time). But I would practice quite a bit, if it was a first time test taker.
The prediction file by PTE MAGIC prior to the exam. I had read through in detail the short-answer question section to make sure I know the answers to some of the questions I did not, given I did not do very well during the test. A lot of these questions pop up in the exam, which was very helpful.
In addition, I had read through the repeat sentence to get a feel of the sentences. Lastly, I also read through the describe image to run through ideas in my head of what to say to get into the habit of being able to think quickly and come up with ideas.
PTE MAGIC Platform: www.ptemagicpractice.com