Sendie, one of our MAGIC students, was able to achieve PTE overall 82 with Listening 79, Reading 81, Speaking 81 and Writing 90 after learning the tips and strategies from PTE MAGIC.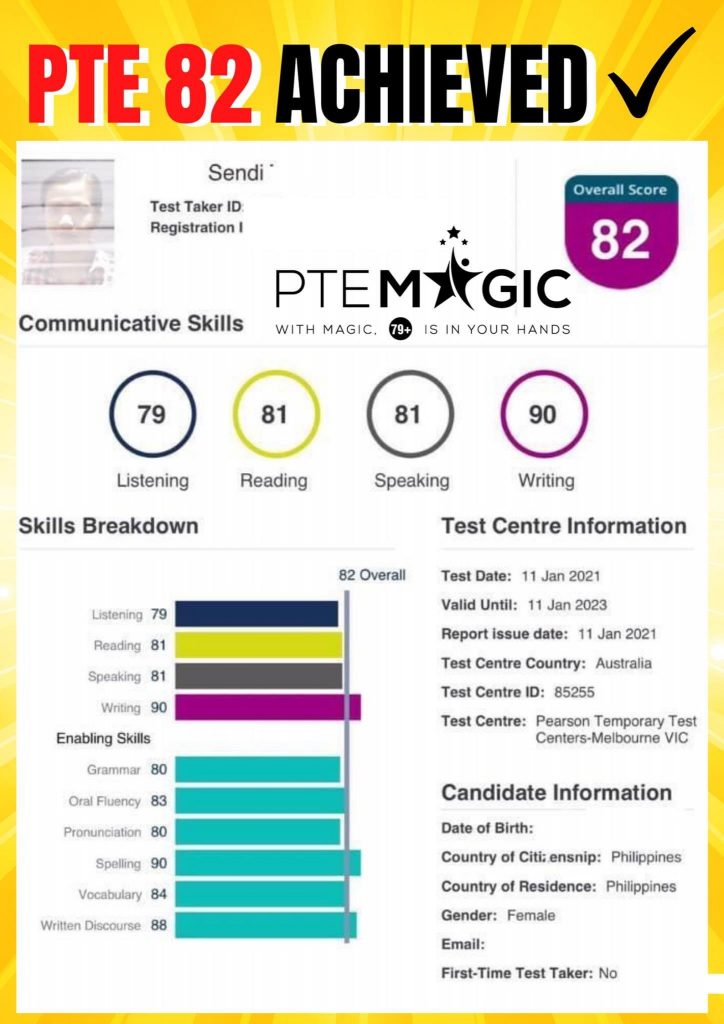 In this article, she will share with us some of her study tips in order to help more PTE aspirants.
We don't need to be an expert at English to get the PTE desired score. We only need hard work, commitment and more practice to achieve our goal.
Tips:
Time management and templates are very important when it comes to the PTE test. You can practice these by completing all the repeated questions on the PTE Magic platform.
Speaking:
Maintain the pace of your tone. Don't speak too fast. Always bear in mind that fluency is very important in PTE Speaking.
Reading:
Practice is the key until you get used to different words, vocabulary and collocations. If you are not sure about the answer, try to guess the meanings that sound right in the sentence.
Writing:
Brush up on grammar. Templates can help you complete your essays.
Listening:
Focus. Try to listen to podcasts and audios.
*KEY: Practice, practice and practice!
PTE Magic has provided a good platform for you to improve yourself and deal with the exam. Always remember the tips given by trainer Moni and trainer Kay because those are really effective

Then, law of attraction. Always think that you can ace the exam, and you have to believe in yourself and always replace the negative with the positive.
Lastly, Pray
Good luck and God bless to the future test takers. May you all achieve your desired score. You are in good hands with PTE Magic
.
_______________________________________________________________________
Join our classes: GET 20% discount
More questions on PTE MAGIC Platform: www.ptemagicpractice.com