Xenia, one of our MAGIC students, was able to achieve PTE overall 83 with Listening 87, Reading 80, Speaking 89 and Writing 81 after learning the tips and strategies from PTE MAGIC.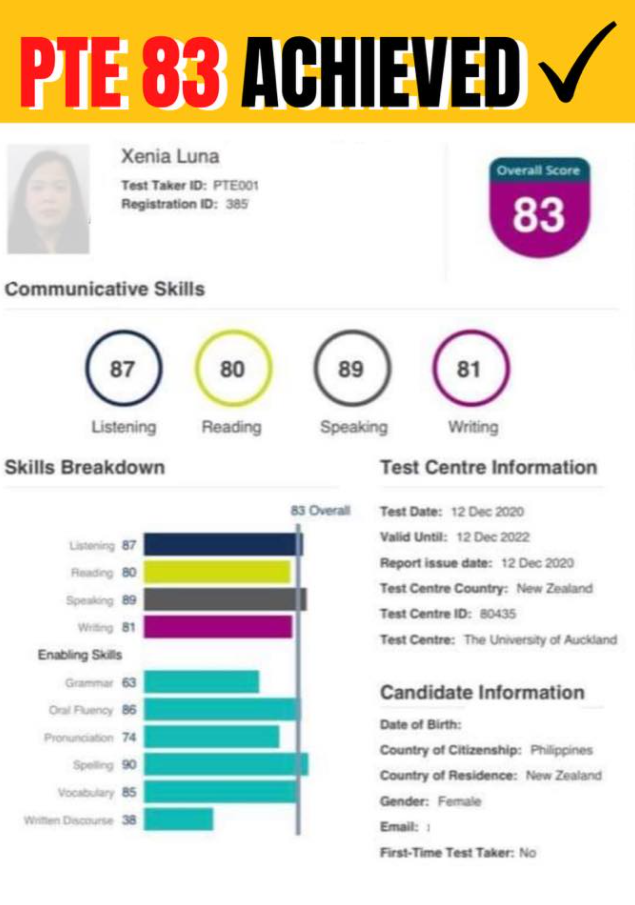 In this article, she will share with us some of her study tips in order to help more PTE aspirants.
Speaking:
Daily practice on the PTE MAGIC platform. I checked my performance by using the AI scoring. Listening to other students' recordings on the platform, especially those who got higher marks, is a good way to improve my performance.
Keep a copy of the template whenever you're practising until you already memorise it by heart and you're confident enough to do Describe Image and Retell Lecture without using the cheat sheet.
If unsure about the pronunciation, I always check it using the internet in order to pronounce the keywords better.
Writing:
I just followed the tips that were given during the writing class, especially for the Summarise Written Text task.
Memorising Essay template is important.
Reading:
Doing at least 10 practice test on each task every day.
Be familiar with collocations and brush up on the basic grammar rules.
Do elimination when answering the R&W FIB.
Listening:
Make use of the template for Summarise Spoken Text.
Daily Write From Dictation practice on the platform. You'll start to memorise some of the sentences of the repeated questions.
More questions on PTE MAGIC Platform: www.ptemagicpractice.com