Sothea, one of our MAGIC students, was able to achieve PTE overall 80 (original target 65+) with Listening 80, Reading 83, Speaking 79 and Writing 81 after learning the tips and strategies from PTE MAGIC.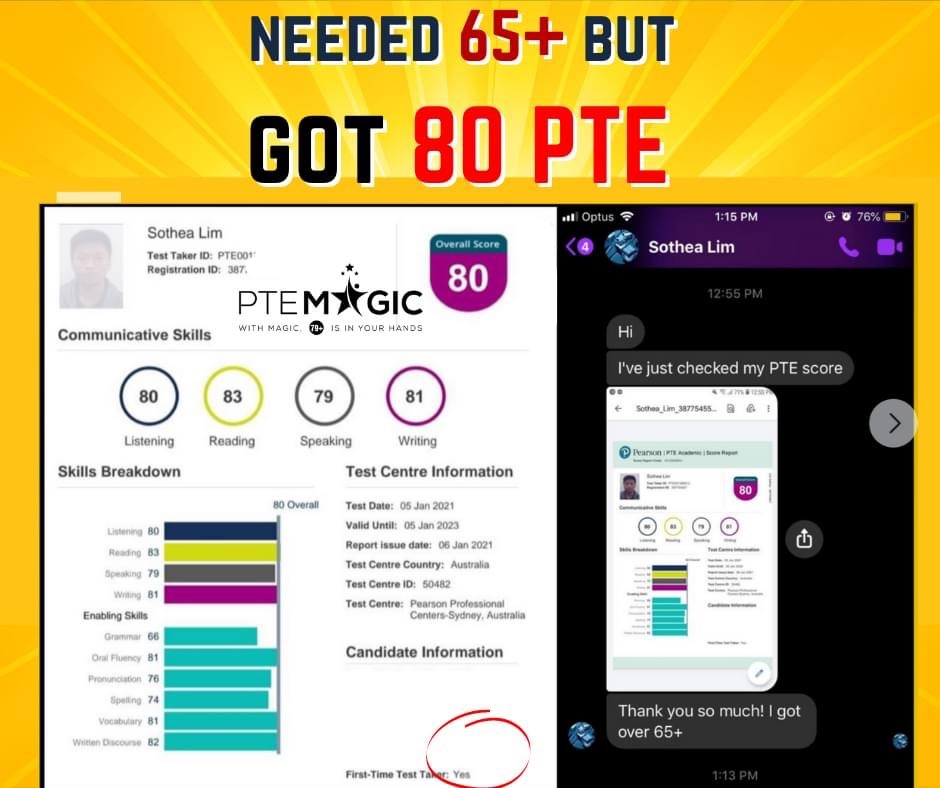 In this article, he will share with us some of his study tips in order to help more PTE aspirants.
Tips for the PTE test
1.Have a platform to practice
When I first started my PTE journey, I thought I would be able to practice it by watching the YouTube videos. This is because I thought the PTE test was similar to the IELTS test. However, IELTS and PTE have distinct formats and requirements. You need a suitable platform to familiarize yourself with all the test items. Luckily, PTE Magic was recommended to me, and I was very grateful for that.
2.Practice and use the tips
I think this one is straightforward. I practiced a lot of exercises on the PTE Magic platform. Practice the repeated questions, especially Write From Dictation, writing the essay, and Repeat Sentence. Knowing the tips on each section of the PTE exam is also vital. Remember to take notes on what they are and use them during practice.
3.Pay attention to class
I often found it useful to listen to the evaluation of my performance in class. Additionally, it is also important to listen to what the other students did in class. Observing and repeating what they were doing helped me adapt to the PTE format faster.
4.PTE's AI algorithm
PTE's AI has a specific algorithm. If you are doing something that is not favorable to the algorithm, your score will not be good. For example, when I didn't connect my sentence properly during speaking, I got low scores. This is because the computer measures fluency points. Knowing how the AI scoring work will help you achieve higher scores.
5.Do the mock test!
PTE mock tests put you in a similar situation as real tests. It will let you know your weakness and strength and show your ability outside of normal practice. For example, even though I was doing well in re-order paragraph, I found I did terribly on this section as I had little time.
Thanks for reading. I think these are the tips I would tell someone who is going to take the PTE test. These tips might not work for everyone, so you should only follow the tips that work for you. Good luck!
_______________________________________________________________________
Join our classes: GET 20% discount
More questions on PTE MAGIC Platform: www.ptemagicpractice.com