Yuri, one of our MAGIC students, was able to achieve PTE overall 70 with Listening 69, Reading 68, Speaking 83 and Writing 67 after learning the tips and strategies from PTE MAGIC.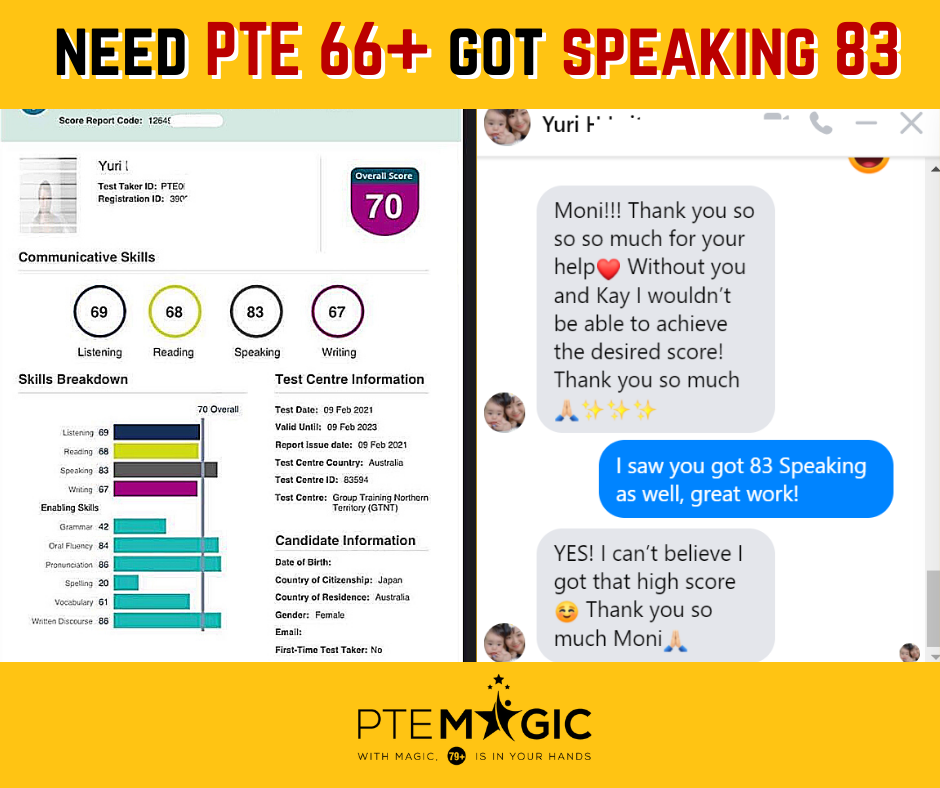 In this article, she will share with us some of her tips in order to help and motivate more PTE aspirants.
Preparation Tips for PTE
Identify your weaknesses and understand what tasks you need to focus on
It is important for you to know your weakness, especially for those who have limited time to study. I was aware that my weakness was Reading, so I decided to focus on the Reading section more. However, I also needed to practice Read Aloud in the Speaking section and Summarize Witten Text in the Writing section to achieve the desired Reading score. Pleas make sure to check what tasks you need to practice more to overcome your weakness. By understanding what tasks you need to focus on, you are able to study effectively.
Practice on a platform every day
To achieve the desired score, the most important thing is familiarizing yourself with the questions. Some tasks need to practice regularly to get used to them. I recommend that you have a platform to practice tasks you need to improve. I also recommend that you practice Repeat Sentence and Write from Dictation on a daily basis as they carry more marks; also, there is a high chance that you get repeated questions on your test day.
Find your comfortable way to speak for maximizing your score in the Speaking section
At first, I struggled to have a high content and fluency score. When I focused on fluency, I lost content points. When I focused on content, I could not maintain a good fluency. I used AI scoring on the PTE MAGIC platform and tried so many different ways to speak. I have tried to use high pitch, speak slower, faster, louder and quieter. It took a while for me to find a comfortable way to speak and maintain good content and fluency. Once you find your way, I recommend that you keep a voice record and practice.
When I was practicing the speaking section, I put background noise (many people talking) on YouTube. When I took the test for the first time, I was overwhelmed by other test takers' voice, and I couldn't focus on the test. Since then, when I practiced PTE Speaking, I had always used the background noise even when I was doing the mock test. It helped me a lot to get ready for the test day.
Do mock test as many as you can
You are able to familiarize yourself with PTE by doing mock test and you won't get panic on your test day. You can also have an idea about time management, especially the Reading and Listening section. In addition, you can analyse your strengths and weaknesses from the result of mock test.
Thank you for reading. As I have an 8-month-old daughter, I struggled to have enough time to study as much as I expected. However, I was able to achieve the desired score with PTE Magic's help. I recommend practicing every day even if you can just do 5 questions. I could do it so you can do it! Good luck with your test. Hard work always pays off!!
Congrats again Yuri! Your persistence and hard work have helped you achieve PTE success.
_______________________________________________________________________
Join our classes: GET 20% discount
More questions on PTE MAGIC Platform: www.ptemagicpractice.com